Mozul Goes to Kara
Mozul was my first character in WoW. He is now a level 70 protection warrior. He is still in my first guild which is quite small and probably won't be going to Kahrazan for quite a long time. However, Hunzul and Dollah have joined a new guild that has a PUG (pick up group) Kara run every Saturday. Well today was the day for Mozul to go. I was the off-tank and had a great time. It is the first time I have raided with Mozul and as a tank. I think I did pretty well. At times I had to use bloodrage or a rage potion to generate rage if I was on the same target as the main tank, but other than that it was OK. Essy was able to come as well. One of the few times she is able to bring her rogue.
And Mozul got Loots. I got the
Band of Impenetrable Defenses
that dropped off one of the trash mobs. This will improve my defense armor set quite a bit.
The really cool thing I got was the
Fiery Warhorse's Reins
from Attumen.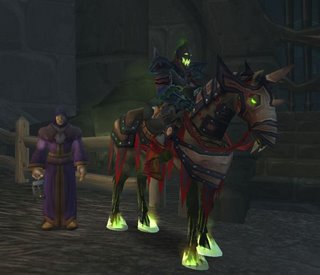 We did Attumen, Moroes and Maiden and got up to the Opera event before I had to leave for work. They got Oz for opera and tried it a few times, but just couldn't do it. We had a whole lot of melee class and no mage which makes the Oz event especially hard.
Lets hope I get Mozul into more raids soon.